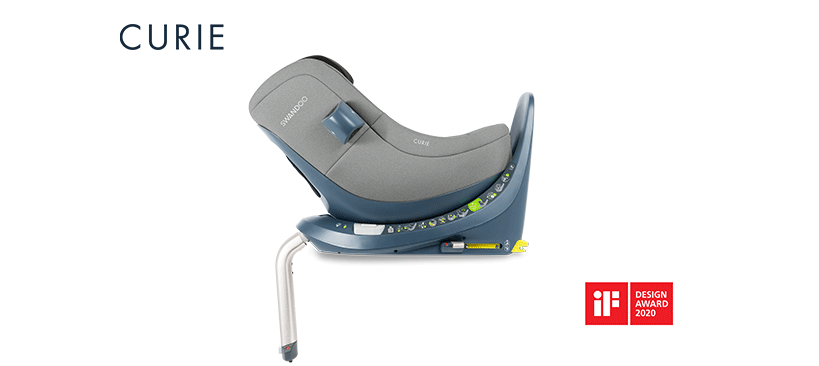 By choosing Curie as your little one's travel companion you are making a conscious decision from the start. Rear-facing only, there will never be the question of which way your child should be facing in the car and there won't be the possibility of turning them forward prematurely. To put it simply, there won't be any compromises when it comes to the safety of your child.

With Curie, there's only one way to travel – the safest way!
Comfortable at every angle
This is Curie, Marie's twin sister. Identical in their elegant looks and equally as determined in protecting the little and not-so-little ones. The two child seats share many of the same features, save for one significant difference – Curie travels rear-facing only! Conforming to the highest ease-of-use standards, Curie can be turned 90° in each direction, enabling you to easily place and remove your little one when boarding or leaving the vehicle.
Many parents think that their child shouldn't ride rear-facing once their legs stick out of the seat. Don't forget, kids are generally way more flexible and agile than us adults, and will find a comfortable position almost anywhere. Sitting cross-legged is not only a common pose in yoga, but also a preferred and comfortable position when sitting or playing on the floor.
The benefits of restraining children up to 4 years of age in a rear-facing position have been proven in real-world accidents, as well as in simulations. Studies report that infants are five times safer in a crash while being in a rear-facing position.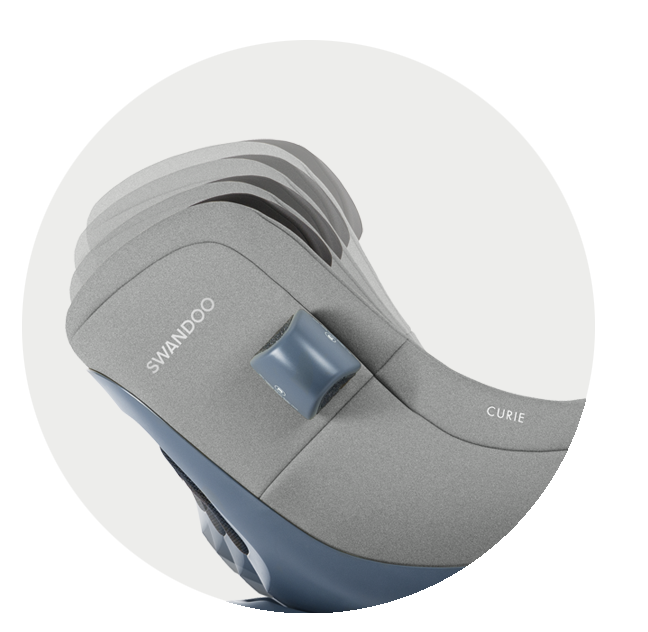 Curie comes in two tasty colours that can also be purchased separately.
In the mood for a colour change? You got it!
Net: 14,9 kg Gross: 18,4 kg

pcs. per pallet (up to 200 cm)
A beautiful and sophisticated Marie model with its many integrated and intelligent product features,
plus the Side Impact Buddy
How is Curie fixed on the vehicle?
Curie is easily installed in the vehicle using the ISOFIX connectors and the load leg. We always recommend arranging a fitting appointment with your local Swandoo retailer! Please find our vehicle compatibility list on our website under swandoo.com/marie-isofix