Once you have got your crib and stroller for your newborn, you may be wanting to look for a car seat next. It's an exciting step before your newborn's arrival, but it still requires time and research. If you overlook basic regulation, you might risk a fine and compromise your baby's safety.
We could write a book about car seat regulations, but instead, we decided to make it easier for you and wrote a short blog on it. From i-Size, R129 to R44 and different car seat laws around the world: Here we aim to respond to some of the questions you may have before buying a car seat for your child.
Is it mandatory to use a children's restraint system in a car?
Yes. Under EU child restraint law, all children up to 36kg, 1.35 m, or about 12 years old must travel in a car seat. The usage of a child restraint system, however, always depends on the mandatory references of your national children's restraint system laws and regulations.
Some countries, like Poland, Italy, and Ireland, mandate that all children under 36 kg or 150 cm must travel in a child restraint system. Get in touch with your local automobile club if in doubt.
Why is it so important for child car seats to be approved?
In Europe, all car seats must fulfill the ECE R129 or ECE R44.04 safety standard before going on the market. These standards are designed to give babies and toddlers the protection needed in case of any car accident and assure a minimum quality standard for every product.
Children have different bodies than adults – and not only in size. Therefore, extra protection is needed according to their physical traits. The UN-ECE standard safety measures aim to protect the most vulnerable areas and guard your children as they grow and change.
What is the difference between ECER129 and ECE R44.04?
There are currently two regulations controlling the safety measure of every car seat that hits the European market:
ECE R129 is the newest UN car seat regulation introduced in 2013. It is an improvement from the previous ECE R44.04 regulation, with the intention of making car seats easier to use, fit, and provide extra side protection – just to name a few of the improvements.
In comparison to the previous regulation, ECE R129 is based on the children's height, rather than their weight. Therefore when buying a car seat for the first time, we recommend referring to your children's height and weight. The age of your child should be only used as an additional guide for choosing the appropriate seat.
How do I know if my car seat is following the European standards?
By law, every car seat on the market should display the European standard orange label, indicating approval for ECE R44.04 or R129.  This is what you should look for: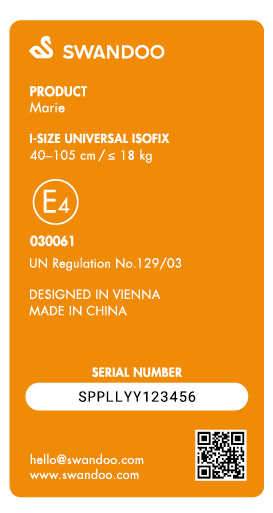 What are I-Size Car Seats?
In addition to the conventional ECE R129, this regulation includes one category known as i-Size.
i-Size basically describes seats that are compatible with i-Size sitting positions in cars.  This means that not every car seat that follows an R129 is an i-Size seat, but they still have many of the benefits of the newest European regulation.
How do I recognize if my car seat fits with I-Size car seats?
Simply look out for the I-Size label in your car seats and your children's restraint system.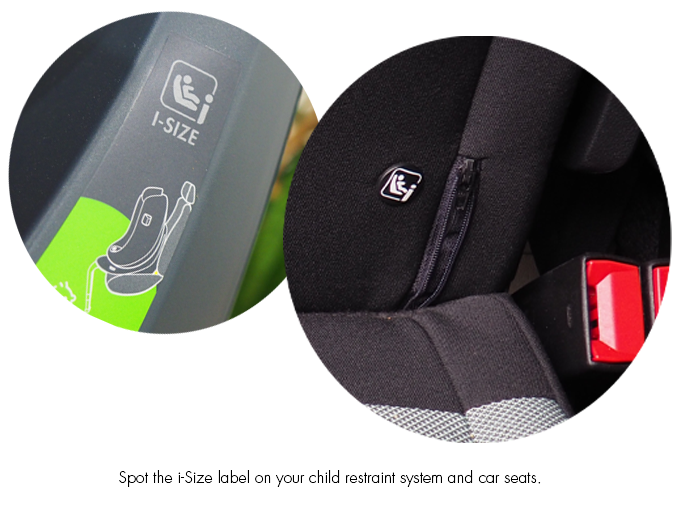 Where should I place a child car seat in my car?
The European car seat regulations also mandate the usage of a car seat in a rear-facing position. As required by law, your baby must travel rear-facing until a minimum age of 15 months.
When using a rear-facing car seat in the passenger seat, the airbag must be deactivated! Once your kid is ready to change to a forward-facing position, remember to activate the airbag again. The safest place to install a car seat is still in the back seats.
As a reminder, you will find this label on every child restraint system:

When is my baby ready to travel forward-facing?
R129 regulation allows children to go forward-facing from 15 months onwards – we recommend keeping the baby rear-facing up to 4 years.
Rear-facing car seats keep the most vulnerable areas of your baby safe while protecting them from the most common type of impact: frontal impact. Read our previous blog post to find out why rear-facing seats are safer.
Is that it?
Not quite yet. Depending on the region you are living in, there are other child restraint laws that may apply. Here are some useful examples:
In

Ireland

, you may receive penalty points when placing a rearward-facing car seat in the front without a deactivated airbag.

For Italy

law is now requiring every vehicle to have an integrated safety device to alert drivers if a child has been left behind in the car seat or on the back sitting.

Only 

EU-approved car seats are allowed in

the UK

. Law prohibits the use of a US-approved car seat. 

In

Europe,

seat belt laws

in public vehicles vary from country to country. Make sure to check out each country's regulation before going abroad.

Only children over the regulated height can use an adult seat belt without an added car seat. Just as car seat regulations, seat belt laws will vary depending on where you go. Check out this helpful link for

additional references.
While there might be a lot to consider when purchasing a baby car seat and installing it in your vehicle, laws aim to maximize child safety. 
We hope we could answer all your questions, but just in case you need additional information – don't hesitate to get in touch with us!
Our team of experts is pleased to assist. Use the contact form to drop us an e-mail or write us directly at hello@swandoo.eu.