If you're a parent, chances are you've experienced the winter travel nightmare with your kids. Long nights, rainy, snowy, the cold are all those delightful elements that make you feel warm and fuzzy on the inside! But with a little preparation, travelling with children in the car can be a breeze! Here are our top 7 tips to make sure your winter journeys are safe and stress-free.
1. Get your car serviced. 
It's important to make sure your car is in good condition before setting off on any journey, but it's especially important in winter. Check your tires, oil levels, and screen wash regularly, and keep some de-icer and a scraper in the car for the snowy weather.
2. Dress for the occasion. 
Who doesn't love snuggling up in a big puffy coat when the temperatures drop into single digits? As wonderful as these items are for warding off the cold, they are, unfortunately, not appropriate for children when travelling in the vehicle. In fact, your child wearing thick and bulky layers of clothing in a car seat with a harness system can lead to excess slack in the harness and will compromise the safety of your child.
¿Por qué es peligrosa la holgura?
Any thick layer that separates the child from the seat or harness creates space (slack) which delays the effect of the child restraint system increasing the impact energy on the body during an accident.
What to do in this situation?
To reduce safety risks but still stay warm, simply swap your little one's winter jacket for a footmuff. Attached to the crotch pad, it covers your child from feet to shoulders in a cosy and warm layer without creating any dangerous slack in the back and front of your child.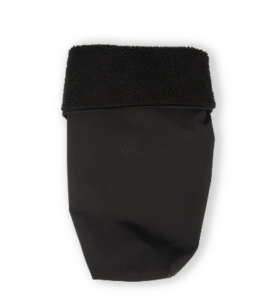 3. Keep your feet dry.
One thing that can be challenging for everyone (both parents and children) in winter, is wet shoes. Bringing spare comfy sneakers and socks for you and your little ones can help you both start the family road trip more relaxed.
4. Plan your route. 
Before setting off, take some time to plan your route and check the weather forecast. If possible, try to avoid travelling in bad weather conditions. However, if you do have to travel in snow or ice, take extra care and allow yourself plenty of time to reach your destination safely. Remember to also check the traffic news and look for any closed roads, accidents and roadworks.
5. Bring snacks and drinks. 
This one is crucial! Hunger and thirst can make even the shortest journey seem endless, so make sure you have plenty of food and drink on hand for both you and your children. Pack some healthy snacks as well as some treats to keep everyone happy (and distracted!).
6. Take regular breaks. 
Take a breather on your travels and watch imagination take flight! Regular pitstops give your little ones time to run around, giving you some much-needed peace. Plus, it's an excellent opportunity for vehicle checkups before hitting the road again.
7. Entertain your passengers. 
Travelling with young children can sometimes test your nerves, but it's important to try and keep them entertained during long journeys. Bring along some of their favourite toys or play on-the-trip games like ​​The Alphabet Game and The Animal Name Game. Your children might also enjoy listening to an audiobook or our Spotify Roadtrip playlist, created to help parents on long and short drives.
Now, enjoy your journey! 
Yes, sometimes the family road trip can sometimes test your patience. At Swandoo, as parents ourselves, we understand your needs, and that's why our car seats are specially designed to maximize the comfort of your little ones and ensure safe and peaceful journeys. Whatever happens on the road, do your best to keep calm, enjoy the ride, and make some happy memories along the way.
To wrap everything up, please remember: have a plan (and backup!), dress for success (thick and bulky clothing can compromise your child's safety), and take breaks from time to time, so everyone can recharge their batteries. With a little bit of preparation in advance – and some patience! – you can have a wonderful family trip with everyone happy on board.
Safe travels this winter from Swandoo!