Marie 2
Enhanced 360° Rotating i-Size Child Seat
Smarter. Better. Safer.
Elegant, smart and safe: our Marie 360° car seat was recognized with the prestigious 2020 iF Design Award for its intuitive user experience and beautiful looks.
Now say hello to Marie 2…the most intuitive car seat you will ever meet.
Major bummer!
Despite the great safety performance that places Marie 2 in the top 10 historical records in the safety category, detected levels of naphthalene that are still below the OEKO-TEX Standard-100 Class I used on babies' clothes, but unfortunately, above STIWA/ADAC's requirements, downgrade the results of Marie 2 at the spring consumer testing, 2021.
Read more about it.
CHILD DIRECTION ASSISTANCE
Marie has unique orbital rotation, enabling you to comfortably face your child when boarding, or leaving the seat. With Marie 2 there's more!
The new integrated Child Direction Assistance helps parents to follow the 15 months rear facing requirement. Simply put, Marie 2 will keep the little ones safer and avoids misuse by not allowing children under 76 cm to be placed into a forward facing position. We recommend keeping your child rear-facing for as long as possible.
Marie 2 is developed to allow a rear-facing position until ~4 years (105 cm).
Prevent car seat misuse with Harness+
Statistics show around 50% of children have a loose fitting harness or belt when traveling in a car seat. As parents ourselves, we have gone above and beyond to prevent this.
Our most recent improvement, the Harness+ will help you to adjust the harness correctly when placing your precious cargo. With Marie 2 you really can't go wrong!
Seat features
Child Direction Assistance
Harness+
Orbital Rotation
SIDE IMPACT BUDDY
HARNESS CLIPS
NEWBORN PILLOW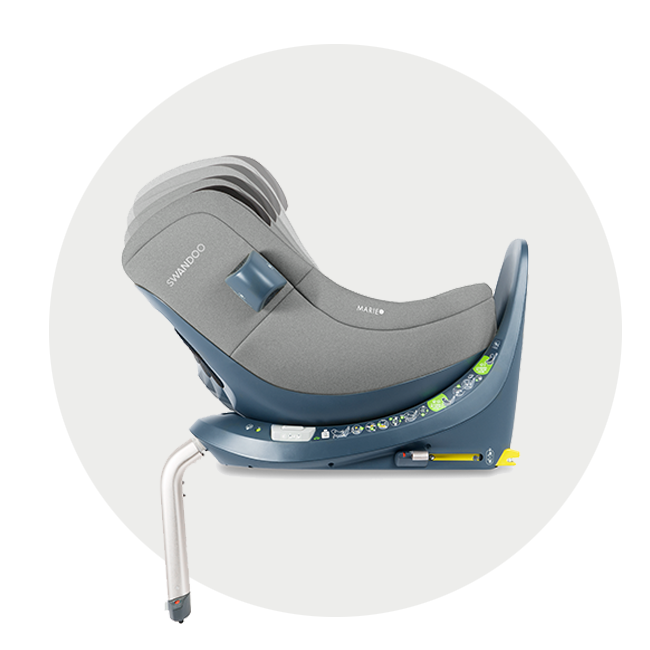 PERFECT RECLINE SYSTEM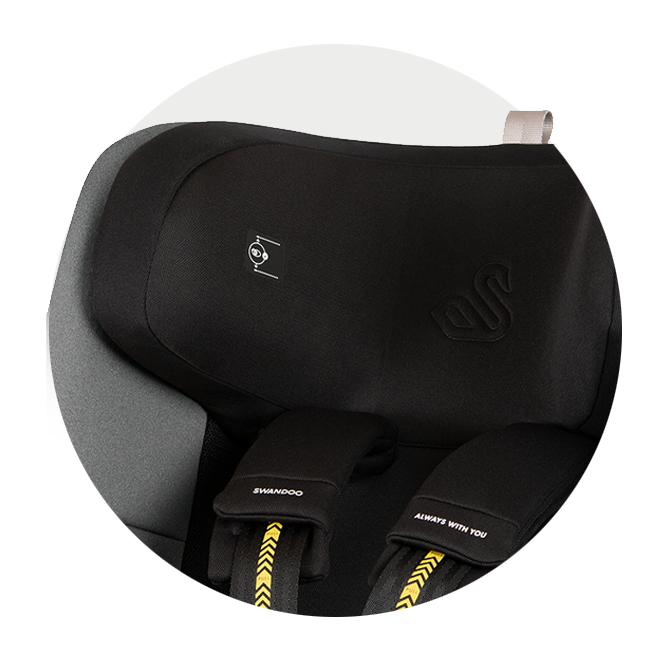 EYE LEVEL INDICATOR
Specs

FOR THE LITTLE AND NOT SO LITTLE ONES 40 – 105 cm or up to 18 kg

I-SIZE, ECE R129/03 Certified to meet the most demanding safety regulations

SEAT´S WEIGHT 14.9 kg
Read More
CHILD DIRECTION ASSISTANCE Ensures safer rear facing travel for kids below 76 cm

HARNESS+ Reminds you to properly adjust the harness to ensure a correct fit for your precious cargo

MEMORY FOAM HEADREST Provides safe and comfortable support at all stages

SIDE IMPACT BUDDY The Side Impact Buddy is an accessory that can be attached on the window side of the seat for extra protection

ENHANCED PROTECTION Unique shell structure with EPP for enhanced impact protection

ORBITAL ROTATION Spin from any of the four recline positions

EXCELLENT AIRFLOW Ventilation designed for optimum comfort

EYE LEVEL INDICATOR A simple visual guide for a correct child fit, improving safety and comfort

HARNESS PADS Anti-Slip, padded shoulder pads

ADJUSTABLE HEADREST Eleven positions to fit the needs of your growing child

HARNESS CLIPS Magnetic harness clips

REMOVABLE FABRICS High quality, machine washable fabrics

DESIGNED IN VIENNA With love by our passionate design team
Where to find us
Life is colorful.
So are our seats.
What is your flavour?
Lime & Sesame Grey
Sesame Grey
Alfalfa
Blueberry
Forest Fruits