Marie
360° Rotating i-Size Child Seat
360 Degrees peace of mind
Meet Marie, the newest member of the Swandoo family. Named after scientist and double Nobel Prize winner Marie Curie, this seat offers a simple and intuitive user experience while surpassing safety standards. Just like other Swandoo products, it was developed by parents, for parents – and it shows!
Recognized with the prestigious 2020 iF Design Award!
I personally really like the rotation feature and I also like the overall design of the seat. We are very satisfied so far and my daughter loves sitting in Marie.
@HappyMomDiary, Blogger
Marie is perfect for us! Our toddler sits comfortably in it and has a comfortable position to lie down while taking a nap. By rotating the seat it is easier to put the child in and out of the car!
Marta, Mom of two little ones
Simple, beautiful and practical. Marie is very easy to use, with a nice design. The magnets that hold the shoulder straps are worth their weight in gold.
Viviana, mom of Aris
Seat features
Orbital Rotation
PERFECT RECLINE SYSTEM
NEWBORN PILLOW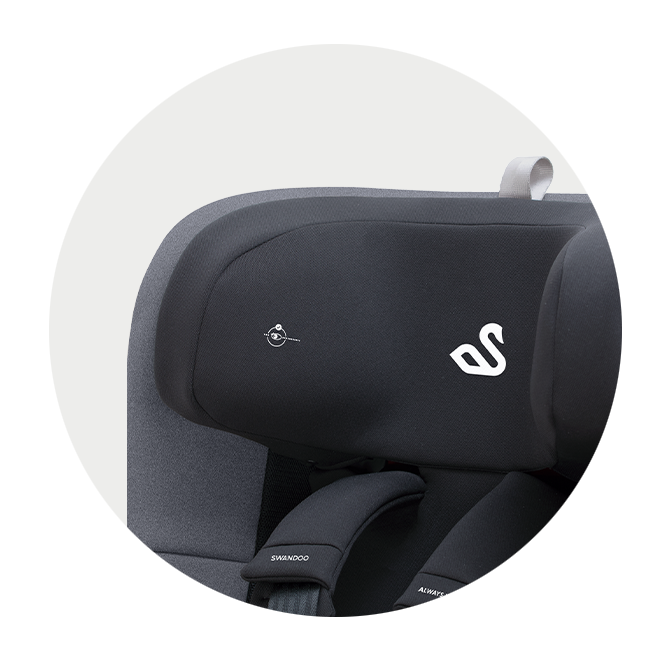 EYE LEVEL INDICATOR
Specs

FOR THE LITTLE AND NOT SO LITTLE ONES 40 – 105 cm or up to 18 kg

I-SIZE, ECE R129/03 Certified to meet the most demanding safety regulations

SEAT´S WEIGHT 14.9 kg
Read More
MEMORY FOAM HEADREST Provides safe and comfortable support at all stages

SIDE IMPACT BUDDY The Side Impact Buddy is an accessory that can be attached on the window side of the seat for extra protection

ENHANCED PROTECTION Unique shell structure with EPP for enhanced impact protection

ORBITAL ROTATION Spin from any of the four recline positions

EXCELLENT AIRFLOW Ventilation designed for optimum comfort

EYE LEVEL INDICATOR A simple visual guide for a correct child fit, improving safety and comfort

HARNESS PADS Anti-Slip, padded shoulder pads

ADJUSTABLE HEADREST Eleven positions to fit the needs of your growing child

HARNESS CLIPS Magnetic harness clips

REMOVABLE FABRICS High quality, machine washable fabrics

DESIGNED IN VIENNA With love by our passionate design team
Where to find us
Life is colorful.
So are our seats.
What is your flavour?
Lime & Sesame Grey
Sesame Grey
Alfalfa
Blueberry
Forest Fruits