Sign up for our newsletter to receive our free checklist
Many parents spend a fair amount of time choosing the right car seat for their little ones. For good reason. Safety ratings, car compatibility, level of comfort, and, of course, pricing, all play leading roles in the decision-making act. With design and colour being cast in supporting roles. 😉
Yet, we all know that even the best produced play won't do well if the acting is flawed. Or, in industry terms, even the best car seats won't fully protect your children, if they are handled incorrectly.
Let's talk numbers…
In fact, a study by the German Insurance Association's accident research department shows that 50% of child safety seats are installed incorrectly. Yes, half of all child seats are either not installed properly, or the children in them are not safely secured. As shocking as this number sounds, it is a tremendous improvement. Thanks to enhanced usability, stricter safety tests, and the introduction of new safety regulations, the error rate has dropped from a whopping 70% over the past years.
Unfortunately, as the study also points out, although the misuse rate is in decline, the type of mistakes made tend to be graver, increasing the safety risk to children. Often parents and caregivers lack the appropriate information and are not aware of their mistakes or the consequences these have on the seat's protective capabilities.
To help fill this gap, we've put together this list highlighting the most common car seat mistakes, and how you can avoid them and keep your little ones safe on the road.
1. Compatibility is essential
Before installing the child seat, you need to make sure it is the right fit. Not only does it have to be compatible with your vehicle, but the child seat also needs to be well adapted to your little one.
From infant carriers to booster seats, there are many different types of children's car seats; each designed to protect children at a specific developmental stage. If you are unsure what kind of car seat your child needs, always confirm the seat fits with the height and/or weight of your little one. A common mistake is moving your child to the next car seat stage too early. We recommend waiting until your little one has reached one of the upper limits of their current seat before upgrading to the next category. Another good tip when purchasing a new child safety seat is opting for one with ISOFIX. It makes the installation much easier.
2. Make the manual your best friend
We know, we know, manuals are boring. Nobody likes reading them. But, and that is a big BUT; a poorly installed child seat will decrease, if not cancel, the seat's protective effect in the case of an accident, or even a sharp brake. From wrongly guided seat belts to not being fixed in place at all, installation errors are a serious safety risk to your child.
Our tip:
To ensure your child's car seat is fitted correctly, practice each step as you go through the manual, especially if it's your first try. This way it will be easier to remember and the installation process becomes more instinctive. In case of any questions, always reach out to a child safety expert – whether that's your trusted retailer or the child seat manufacturer.
3. Bye-bye slack
Loose-fitting harnesses are among the most common, yet dangerous mistakes we see with child safety seats. We understand it can be difficult to know how tight the car seat straps should be. Of course, your little one should be comfortable in the vehicle. But a taut harness is what keeps your child in place and limits the force on their body in the case of a collision.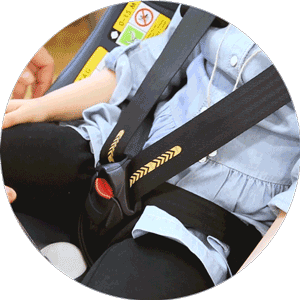 Tighten the harness straps until it fits snugly around your little one's upper thighs and chest. Also, don't forget to check the hip area for hidden slack and remove it!
Our tip:
Test if the harness is tight enough on your child with the pinch test. Try grasping the webbing with two fingers; if they slide off, you're good to go.
Get our free step-by-step checklist to buckling your child in their child seat.
4. Take off the winter coat
…or any other thick and puffy clothing for that matter. No, we don't want your little ones to be cold. The reason why your children shouldn't wear coats in their car seat is that thick layers can create excess slack under the harness.
Instead cover your children with a cosy blanket or coat AFTER adjusting the harness to keep them warm and toasty on the road.
5. Adjust the headrest
The head and neck are the most vulnerable areas of a growing child. Make sure they are well protected by the headrest.
If you are unsure where the headrest on your child's safety seat should be, adjust it until the side flaps flanking the centre of your child's head, and you can fit about two finger's width between the bottom part of the headrest and the top of your child's shoulder.
6. Rear-facing all the way
We already mentioned the importance of protecting a child's head and neck. One of the most important things you can do to keep your little ones safe, is having them travel rear-facing.
Mandatory for the first 15 months of a child's life, we recommend that your little one stays in rear-facing position for as long as possible.
7. Sometimes less is more
From colourful fabric covers and cup holders to plushy pillows and big toys, we know it is tempting to add fun gadgets and other things to your child's car seat. However, any additional accessory and toys might interfere with the seat's protective capabilities. As a general rule, we recommend only using items that are approved by the manufacturer of your child safety seat. This means they have been tested and won't affect the safety performance of the seat.
---
As parents ourselves, we know how easy it is to get things wrong. (Especially when trying to secure a crying toddler with only minutes before the supermarket closes). To minimise the risk of potential mistakes when it comes to car seats, we strive to make all our products as intuitive and easy to use as possible.
With this list, we hope we could further highlight the various areas where mistakes might occur and provide solutions to help you keep your little ones safe on the road. If you have any questions, would like to learn more on a certain topic, or just want to share your experience with us, please get in touch.
Sign up for our newsletter to get our free car seat safety checklist and buckle your little one correctly every single time.