MAJOR BUMMER
Marie needs a wash.
 Despite the great safety performance that places Marie 2 in the top 10 historical records in the safety category, levels of naphthalene above STIWA/ADAC's requirements result in a downgrade at the spring consumer testing, 2021.
The Spring 2021 Test carried out by top consumer rating associations Stiftung Warentest, ADAC, ÖAMTC and TCS gave Marie 2 an overall score of 4.6, "not recommended".
While Marie 2 delivered positive results in the safety and handling categories, chemical tests in the fabric cover found levels of naphthalene above their required value of 1ppm (parts per million).
Unfortunately, a negative 'Harmful Substances' result overrides the other categories in the consumer testing, and translates directly into the overall final grading.
WHAT IS NAPHTHALENE?
Naphthalene is a colour binding agent and a byproduct in most textile manufacturing processes. Since it can pose health risks when found in high quantities, Stiftung Warentest adopts a limit of 1 ppm from the GS-Zeichen standard used on "long-term skin contact and feeding products" for children under 3 years. Unfortunately, at a level of 1.4 ppm, Marie exceeded this value.
During tests conducted by independent labs, both before, and during production, no values above 0.7 ppm were detected. The prestigious Hansecontrol laboratory in Hamburg is currently analyzing samples of multiple materials from random seats from our storage facilities. Prior to this press release, no exceeding values have been found. However, we will continue to collect as much data as possible in order to identify where the contamination could have occurred and/or if it is limited to isolated production batches, foams, or fabric colors.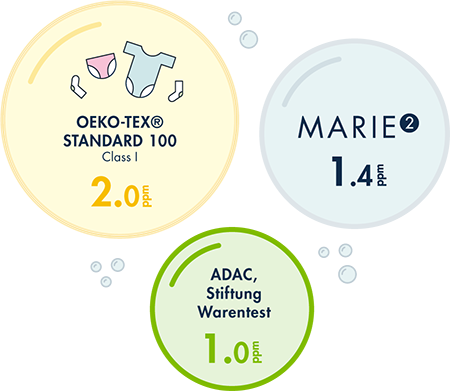 Despite these unfortunate results, the lab reports have already confirmed that the naphthalene quantity can be reduced to an even safer level by simply machine washing the fabric cover at home.
Moreover, the values of naphthalene found in the fabric covers are below the 2.0 ppm OEKO-TEX Standard 100 Class 1 limit used for baby clothing, and in no way affect the safety performance of Marie 2, previous generations of the seat, or Albert in a collision.
We understand that this is unsettling information and you probably have questions or concerns. The safety of our children is our top priority and we are doing our best to resolve this issue as quickly as possible and remain strongly committed to continually improving our products and processes.
SO WHAT NOW?
Our next steps.
At Swandoo, honesty and transparency are core values at the heart of our mission to provide the best possible products for families and children.
We are a non-conformist team of designers and engineers, and we take great pride in the use of high-quality materials to produce our seats. Improving our quality control processes to minimise, if not entirely eliminate, naphthalene values and avoid future contaminations with any other chemicals is amongst our highest priorities.
We assure you that we take this issue extremely seriously. We have already selected new suppliers with stricter quality standards. Development of new materials is already ongoing and we will be revamping the fabric covers in the next generation of our products.


As mentioned above, with a naphthalene value lower than the OEKO-TEX Standard 100 Class I certification for babies' clothes, and with the lab's confirmation that the value can drop with a gentle 30 degree machine wash at home, we see no reason for a product recall, or the need to return the seat.
To gain complete peace of mind and guarantee the highest level of safety for your children, we kindly ask parents and caretakers to wash their Marie 2 fabric covers, ideally before the first use.
Always with you!

Deeply affected by this unfortunate news, we are using this opportunity to reassure you, our partners and friends, that we are taking appropriate action in this matter and plan to come back stronger than before, and with even safer products.

Addressing parents' needs and helping them achieve a more joyful and balanced life is central to what we do and we like to remind you of this – we are family and we are here for you.

If you'd like to learn more about naphthalene or find out if your car seat was affected, don't hesitate to contact us at hello@swandoo.com.

We'd also like to sincerely apologise to anyone affected by this news and thank you for your continued support and understanding.

Je Swandoo familie